TGPR has many Great Pyrenees throughout the state of Texas waiting for a new home.
If you are interesting in adopting one of dogs, or volunteering, please fill out an application.
TGPR is an all volunteer organization, and we can only save these gentle giants with help from the public. Will you help?
TGPR has a team of dedicated volunteers and fosters.
Featured Dog
Berg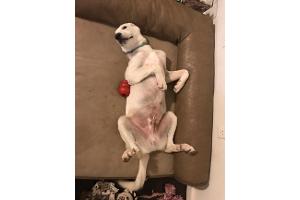 Berg's DOB is 2/27/2019. He loves the water, playing with toys and chasing balls! He is very playful and loves chewing on bully sticks and bones during his down time! He is good with all size dogs and cats. He loves getting attention from his humans and he is potty trained! Hey everyone I'm one of 3 puppies found dumped on the side of the road. A nice lady picked us up and we were lucky enough to go into a great foster home in the Dallas area. read more
Adoption Tails
Our Mission Statement
TGPR is a 501.c.3 not-for-profit organization dedicated to the protection and rescue of Great Pyrenees in Texas and surrounding areas.

TGPR helps Great Pyrenees that are considered at-risk for physical/mental injury, cruelty and abandonment and that may be subject to euthanasia and inhumane treatment.
Newsletter sign up

Be the first to get the latest news and updates