TGPR has many Great Pyrenees throughout the state of Texas waiting for a new home.
If you are interesting in adopting one of dogs, or volunteering, please fill out an application.
TGPR is an all volunteer organization, and we can only save these gentle giants with help from the public. Will you help?
TGPR has a team of dedicated volunteers and fosters.
Featured Dog
Archie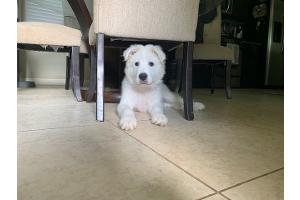 Archie came to TGPR from Austin Animal Center where he was found as a stray. He is 12 weeks old, 32lbs, and full of bouncy, happy, goofy puppy energy. He loves all dogs, people and kids. He has not yet been cat tested. He is mostly potty trained and fully crate trained. He loves squeaky toys and lots of water. He's the most friendly, funny, sweet little puppy! He's royalty to TGPR! Don't you want to adopt this handsome fella for yourself? read more
Adoption Tails
Our Mission Statement
TGPR is a 501.c.3 not-for-profit organization dedicated to the protection and rescue of Great Pyrenees in Texas and surrounding areas.

TGPR helps Great Pyrenees that are considered at-risk for physical/mental injury, cruelty and abandonment and that may be subject to euthanasia and inhumane treatment.
Newsletter sign up

Be the first to get the latest news and updates