TGPR has many Great Pyrenees throughout the state of Texas waiting for a new home.
If you are interesting in adopting one of dogs, or volunteering, please fill out an application.
TGPR is an all volunteer organization, and we can only save these gentle giants with help from the public. Will you help?
TGPR has a team of dedicated volunteers and fosters.
Featured Dog
Jessie Green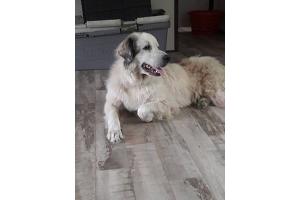 ADOPTION PENDING EJ Hi! My name is Jessie Green, and I'm sure glad to meet ya! I was born 7/1/2015. I have such pretty markings and a beautiful smile! I met a nice boy, and ended up a little bit pregnant! My babies have now found homes so it is now my turn. I'm VERY sweet and gentle. I am potty trained by dog dog, I have great house manners. I enjoy staying outside to take "my turn" in watching the back yard. While I am not living with cats right now I am fine with cats! . My foster has horses and I am fine with them too. I am a tad timid but walk well on the leash and have been to several events with a lot of dogs and people and I did great! I was a very light heartworm positive in June 2017 so I am doing the slower less invasive form of HW treatment. So, if you have any questions, or think I'd be perfect for your family, please go to INFO@TXPYRS.ORG, and ask! Remember, my name is Jessie Green! Thanks for listening! read more
Adoption Tails
Our Mission Statement
TGPR is a 501.c.3 not-for-profit organization dedicated to the protection and rescue of Great Pyrenees in Texas and surrounding areas.

TGPR helps Great Pyrenees that are considered at-risk for physical/mental injury, cruelty and abandonment and that may be subject to euthanasia and inhumane treatment.
Newsletter sign up

Be the first to get the latest news and updates