TGPR has many Great Pyrenees throughout the state of Texas waiting for a new home.
If you are interesting in adopting one of dogs, or volunteering, please fill out an application.
TGPR is an all volunteer organization, and we can only save these gentle giants with help from the public. Will you help?
TGPR has a team of dedicated volunteers and fosters.
Featured Dog
Squirt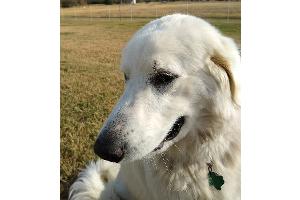 Squirt looks like he fits his name, but, though he is small, he is mighty! Born in September 2017, this Great Pyrenees x Anatolian Shepherd has resigned the working life to become a pet. He is a very well balanced dog. He was surrendered only because the farm where he was born had a dog population problem. Squirt is playful and puppy-like with other dogs. He has been in multiple large packs of dogs and has not started any trouble. He is very loving and happy to be around his people. He would be a fantastic hobby farm pet dog, because he is sweet and social with everyone he meets, including children. He is currently fostered with multiple cats, and just ignores them (or turns the other cheek if they swat at him!). Squirt rides in a vehicle well and walks very calmly on a leash. He is very versatile and adaptable. He would even do very well as an apartment dog due to his smaller size. Squirt is located in the Denton, TX area. Come and meet him! read more
Adoption Tails
Our Mission Statement
TGPR is a 501.c.3 not-for-profit organization dedicated to the protection and rescue of Great Pyrenees in Texas and surrounding areas.

TGPR helps Great Pyrenees that are considered at-risk for physical/mental injury, cruelty and abandonment and that may be subject to euthanasia and inhumane treatment.
Newsletter sign up

Be the first to get the latest news and updates