TGPR has many Great Pyrenees throughout the state of Texas waiting for a new home.
If you are interesting in adopting one of dogs, or volunteering, please fill out an application.
TGPR is an all volunteer organization, and we can only save these gentle giants with help from the public. Will you help?
TGPR has a team of dedicated volunteers and fosters.
Featured Dog
Marty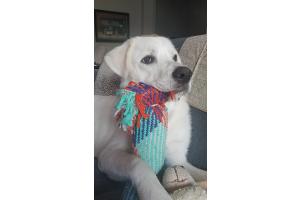 Marty is ready to find his forever home! He's been through a LOT, and we will be looking for just the right fit for him. He has struggled to find his place in the world, but after a few months of decompression and stability, he is doing really well! Marty is a big sweet goofball. Loves to go on walks (carrying his stuffed toy), chases around with toys in the yard, and snuggles! He's a leaner - leaning into you for pets and butt rubs. He doesn't bark much, which is a benefit over a Pyr. He's a gorgeous boy who will need consistent structure in order to be successful. He's big for a golden mix (90lbs or so) and we really don't know what exactly he's mixed with, but he is SO CUTE and SMART - it doesn't really matter! Great on leash (working on resolving some reactivity around bikes and other dogs which has come a LONG way). While in foster, he will be receiving regular training as his foster family wants the absolute best for him! His ideal home will be active (a tired dog is a happy dog) and consistent. We envision regular walks/runs at Town Lake, and weekend patio brunches for him. His new family must be open to continuing his training. A large yard is bonus, but not requirement. He would thrive as an only dog, but has been good with other large dogs as well, with proper introductions, which will have the added benefit of keeping him dog social. Potential adopters will be expected to spend some time with him at the foster home ahead of being able to take him home. For this reason, adoption will be limited to the Austin area. He will do best when building a relationship before moving to a new environment. Bonus: Free training during this process! He bonds to his people quickly and strongly. This dog is going to be a PHENOMENAL lifelong partner for someone and we are so excited for him to start the next chapter in his life. read more
Adoption Tails
Our Mission Statement
TGPR is a 501.c.3 not-for-profit organization dedicated to the protection and rescue of Great Pyrenees in Texas and surrounding areas.

TGPR helps Great Pyrenees that are considered at-risk for physical/mental injury, cruelty and abandonment and that may be subject to euthanasia and inhumane treatment.
Newsletter sign up

Be the first to get the latest news and updates