TGPR has many Great Pyrenees throughout the state of Texas waiting for a new home.
If you are interesting in adopting one of dogs, or volunteering, please fill out an application.
TGPR is an all volunteer organization, and we can only save these gentle giants with help from the public. Will you help?
TGPR has a team of dedicated volunteers and fosters.
Featured Dog
Willie Nelson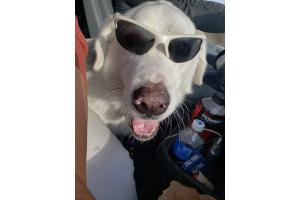 Hey ya'll!! I am "on the road again" in search of my forever family!! My last family thought I should live with their goats, but I prefer humans. Like my momma always said" don't let your babies grow up to be cowboys!" There will be no blue eyes crying in the rain" if you adopt me. Born in October of 2013, I am a mature happy boy, fully vetted and ready for my new home! You can find me in Sanger, TX right now. I enjoy playing with other dogs, but I do need slow introductions to get to know them. I do have some resource guarding, so treats and food should be given to me in a secluded area. read more
Adoption Tails
Our Mission Statement
TGPR is a 501.c.3 not-for-profit organization dedicated to the protection and rescue of Great Pyrenees in Texas and surrounding areas.

TGPR helps Great Pyrenees that are considered at-risk for physical/mental injury, cruelty and abandonment and that may be subject to euthanasia and inhumane treatment.
Newsletter sign up

Be the first to get the latest news and updates