TGPR has many Great Pyrenees throughout the state of Texas waiting for a new home.
If you are interesting in adopting one of dogs, or volunteering, please fill out an application.
TGPR is an all volunteer organization, and we can only save these gentle giants with help from the public. Will you help?
TGPR has a team of dedicated volunteers and fosters.
Featured Dog
Bo Duke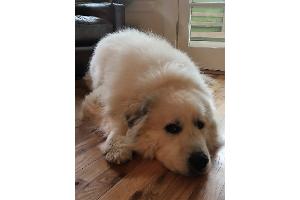 Well hey there my name is Bo Duke, I was born and adopted in 2014 but was re-homed in 2015, My second family recently fell on hard times, and while I was staying with a family friend I escaped and my foster family found me wandering West 14th Street in the Heights. My second family has been contacted and they have surrendered me to TXPYRS, so I am looking for my 3rd home. I am your ultimate indoor kid, with random bursts of excitement. I love long naps laying on the cool tile, playing with squeaky toys, galloping in the yard before breakfast and getting lots of belly rubs and hugs. Im very comfortable with my foster family, no accidents inside and let them know when I have to go potty. I play well with their 2 year old goldendoodle and 11 year old cat. Great on leash walks, non reactive walking past strollers and other dogs, sleep throughout the night, no issues when left alone in the house. I eat well have had my first set of shots, heartworm negative, need a weight gain and then I will be neutered. I am the ultimate sweetheart to join your family and melt your heart, come meet me soon!!! read more
Adoption Tails
Our Mission Statement
TGPR is a 501.c.3 not-for-profit organization dedicated to the protection and rescue of Great Pyrenees in Texas and surrounding areas.

TGPR helps Great Pyrenees that are considered at-risk for physical/mental injury, cruelty and abandonment and that may be subject to euthanasia and inhumane treatment.
Newsletter sign up

Be the first to get the latest news and updates