TGPR has many Great Pyrenees throughout the state of Texas waiting for a new home.
If you are interesting in adopting one of dogs, or volunteering, please fill out an application.
TGPR is an all volunteer organization, and we can only save these gentle giants with help from the public. Will you help?
TGPR has a team of dedicated volunteers and fosters.
Featured Dog
Bichon of the Tribute Litter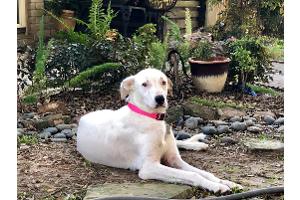 Bichon update: Bichon is a super sweet girl and protective of her humans. Her favorite thing is food time. She finds her crate to be her safe place and sleeps in it at night and uses it for naps during the day. Plays well with other dogs, but is wary when approached while with one of her human family members. Fill out your application so you can come meet her! Hi! My name is Bichon and I am an Anatolian mix with double dew claws, born approximately 3/18/2018. I am female and am looking for my forever home. I LOVE playing in the water! I very much have the Great Pyrenees traits. I'm quieter and more reserved though. My foster says I'm very smart! My siblings and I were rescued from the shelter. My 4 litter mates and I are named after other dog breeds to pay tribute to all the dogs out there. read more
Adoption Tails
Our Mission Statement
TGPR is a 501.c.3 not-for-profit organization dedicated to the protection and rescue of Great Pyrenees in Texas and surrounding areas.

TGPR helps Great Pyrenees that are considered at-risk for physical/mental injury, cruelty and abandonment and that may be subject to euthanasia and inhumane treatment.
Newsletter sign up

Be the first to get the latest news and updates